Once a Hero has an idea to get out into the world and begin doing good deeds, They must first have a name, and then comes the BattleSuit. I mean, you don't want to go running around fighting evil with nothing on do you? If you do, keep it to yourselves ya' weirdoes.

BattleSuits are constructed using a Serger, or an overlock sewing machine which allows for us to make reinforced seams in all suits. Our suits have been worn in wrestling rings, at conventions, and in the streets fighting crime and grime. We have even had one survive a motorcycle wreck. Needless to say they will stay with you for some time.

Our suits are made based off of your chest and waist measurements in inches. So check your chest and waist and choose accordingly.

Also, BattleSuits can be made in one or two piece designs. Two piece suits feature extra long tops, while one piece suits generally zip up the back with a 22" zipper. Modifications can be done whereas the zipper can be on the front and more for the looks of the suit.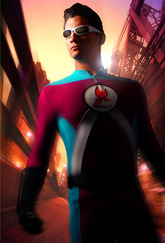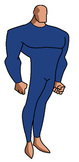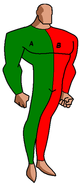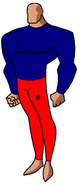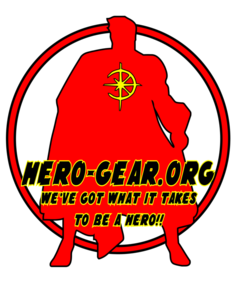 At Hero Gear, we start out with a Unisex StarterSuit, which the main styles are listed below. The sizes below are based on chest measurements. If you have a concern on the sizing, choose the closest size and e-mail us your measurements to ensure a correct fit. Then the suit can be embellished with items here and on the other pages. We use Miliskin Spandex which is a lightweight yet durable fabric that features 4 way stretch which allows the suit to be tight, yet not binding. It is also opaque and shiny. For an additional charge we can replace some, or all of the Miliskin with wetlook or Metallic Spandex. Have a unique design or special size? E-mail us at
herogear@rocketmail.com
with your custom designs for a price quote!
.

CUSTOM SUIT
DYE SUBLIMATED
300.00
WE ARE NOW OFFERING DYE SUBLIMATED COSTUMES WHERE THE IMAGE IS DYED DIRECTLY INTO 4 WAY STRETCH LYCRA, GIVING YOU A CLEAN CLEAR DESIGN IN ANY COLORS WITH 3 DIMENSIONAL LOOKS!